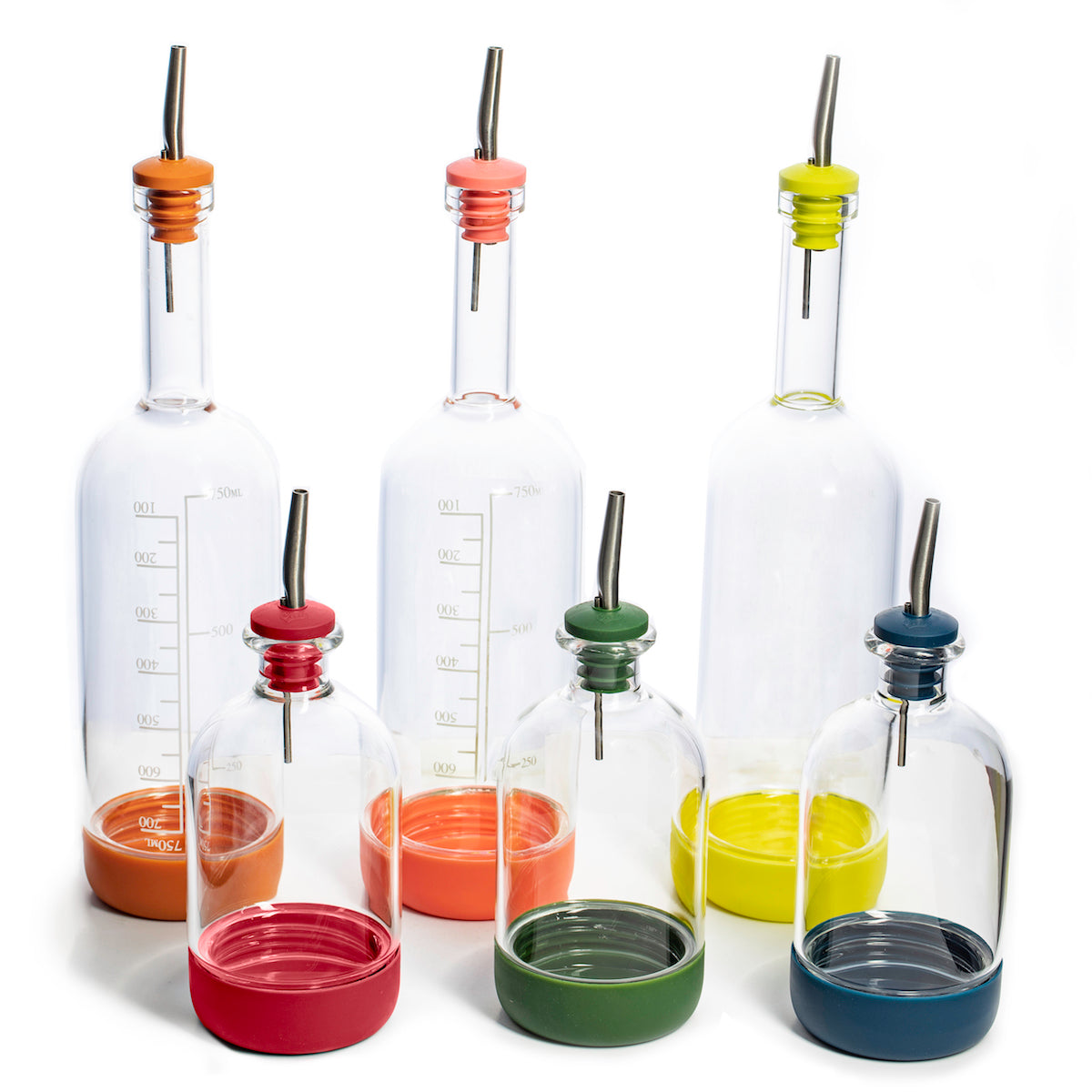 Pour With Pride: Bigger Than Bar Supplies
Pour With Pride: Bigger Than Bar Supplies
Pride Month is celebrated in many ways around the world to champion equal justice and equal opportunity within the LBGTQ+ community. Pride is a way to remember and honor those who bravely fought for full equality and against discrimination. From parades to workshops to concerts, there are many ways to get involved with Pride.
Fortunately, much work has been done over the years to make workplaces more supportive and inclusive. Today companies are becoming much more inclusive by creating non-discrimination policies, transgender-inclusive health insurance coverage and equitable benefits for LQBTQ+ workers. And while companies in the Food & Beverage industry have come a long way, there's still plenty of work to be done.
Here at Crew Supply Co., an industry leader in barware sets and bar supplies, we're proud to be an active supporter and champion of LGBTQ+ affirming spaces in the Food & Beverage industry. We believe that inclusivity isn't just a social imperative; it's better for business. So for Pride Month, we created a #PourWithPride campaign to raise awareness of the importance of inclusivity in the Food & Beverage industry, help connect business owners and individuals with tools and resources to cultivate inclusive environments, and hosting the first of many events that platform LBGTQ+ community members in the industry. In addition, we created a Pride Pin so you and others can show your support, and we're featuring our Pride Pack barware set this month. Read on to learn more.
Pour with Pride: Setting the Standard for Inclusivity and Better Business
Creating inclusive spaces improves staff morale, team culture and business operations. According to Cheyenne Serene, a bar manager in New Orleans, "Inclusive spaces affirm customers that they are seen, supported and will be accommodated, which attracts both new and repeat customers." 
Companies that have inclusivity programs, and not just hiring practices but in every detail of their environments, improve business operations. According to McKinsey, 2015, diverse, inclusive companies are 35% more likely to outperform the least ethnically diverse companies. Per Bershin, 2019, they have a 2.3X higher cash flow per employee. It's a win-win.
Here at Crew, we're known as an innovative barware company, but we're also fierce advocates for inclusivity in business practices. To help get the conversation going, we created a thoughtful, evidence-based resource to share with business leaders so they can think about how to implement positive changes. Download our free "Pour with Pride" PDF to share with your crew!
Crew Pride Pin: Put Your Values on Display
For Pride Month and beyond, we wanted to do something for our fellow industry friends to put their values on proud display. So, we collaborated with Love & Victory to develop a Pride Pin so people can show their pride and support for the community. Love & Victory took our concept, and together with their knowledge of our products, they designed what we think is a pretty unique and snazzy pin.
Even if you're not in the Food & Beverage industry, you may know someone who is or is an LBGTQ+ supporter and would enjoy wearing a pin.
Not only will people get to share their pride, but proceeds from the sale of each pin will support the development of educational resources and events supporting equality in the Food & Beverage industry. It's a win-win! Learn more about and purchase a Pride Pin here. You can also subscribe to our newsletter to get in on the fun campaign.
Crew Barware Set: Pride Pack
At Crew, we believe in high-quality, efficient barware for the busiest of restaurants and bars to the most upscale or novice home bar. That's why we spent years perfecting our barware. One of our top-selling products is the Pride Pack, which includes a mix of our barware together in a perfect pack:
2 "Crafty" Crew Bottles® - Our sleek design combines optimal performance with functionality, and we think you'll agree that it's simply the best way to infuse, mix and pour liquid ingredients such as simple syrups, fresh juices, oil infusions and cocktail ingredients.
1 "Classic" Crew Bottle® - Our Crew Bottle® that's completely see-through.
3 Chubby Bottles - Our favorite Crew Bottle® with a (pleasantly) plump figure is perfect for olive oil infusions, dressing and craft cocktail pairings.
6 Pour Boy® Pour Spouts - The optimal pour spout provides a precise pour every time, resulting in a world-class speed pourer.
6 Crew Caps - Bottle caps made from unvarnished birch wood and food-grade synthetic cork are designed to fit perfectly into our bottles.
We think you'll agree that one of the best parts about our Pride Pack is that they come in six different colors, so for you organizers out there, this may be a dream come true! You can arrange your liquids, oils and craft cocktail liquids in whichever way makes sense for your restaurant or home bar. And if you find that your color organization needs more or different colors, you can purchase additional bottles as we have several other colors.
Our First "Pour with Pride" Pop-Up Bar
We were so excited to sponsor our first Pour with Pride event on June 14, 2021, at the Buckeye Bourbon House in Columbus, Ohio! The event featured a pop-up bar promoting inclusivity in the Food & Beverage industry. Nine local bartenders in the LBGTQ+ community served amazing drinks to the over 700 attendees, and we had tons of Pride swag for attendees! The event generated $3500 for Mosiac Ohio, a wellness program and community space for transgender, gender non-conforming and non-binary people. Twelve local brands participated as co-sponsors. 
What Can You Do to Help Support the LGBTQ+ Community?
Although the Food & Beverage industry has come a long way to support the LGBTQ+ community, there's still progress to be made. Here are just a few ideas of ways you can help:
Get Involved
We're proud to be supporters of the LBGTQ+ community by taking action within the Food & Beverage industry. Check out our website to learn more about bartending sets and kits.
Do you know a business that cultivates a positive LGBTQ+ environment? If so, reach out to us at support@crewsupplyco.com so we can connect with forward-thinking groups in the industry. #PourWithPride